Olive oil and olives
Our olive grove consists mainly of the varieties frantoio and leccino.  We also have a few koroneiki, pendolino, picual and J5 trees.  Our oil is a blend of all these – with fortuitous results!
The olives are harvested in May.  We are lucky to have friends and family who come to help.  This year we bought a hand held mechanical harvester to speed up the picking, but there were still a good few trees picked by hand, using rakes to "comb" fruit from the branches onto mats laid under the trees. We try to press the olives within 24 hours of picking to reduce any possibility of spoilage and "off" flavours.
1st Press Olive Oil 2018 Harvest
Estate grown and pressed.
Our 2017 oil sold out, and we have now released the oil from the 2018 harvest. The oil has been submitted to Olives NZ for analysis and has been classified as "extra virgin", a mild oil with no defects. We are planning to enter our oil in the Olives NZ annual awards again, and will keep you posted on the results!
2018 was a high production year in the Bay of Plenty, though handicapped somewhat by high rainfall which caused problems with fungal infections and rot in some orchards. Our pruning regime has started to open up our trees and that stood us in good stead this year. More air, more light; better and riper fruit.
We are delighted to have been awarded a silver medal in the recent Olives New Zealand 2018 awards. Judges' tasting notes; "Tropical exotic fruit, pear and green apple, good flavour transfer, clean and light mouthfeel, spicy aftertaste and lingering warm finish." This is our third silver medal in three years; we are proud of our consistency and will continue to work to grow and press to a high standard to give you the best oil we can.
We hope you enjoy our oil.
Prices: 250ml $15.00, 500ml $27.00
We are now pressing our own olive oil. More...
Table Olives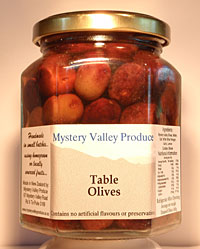 We keep some of our riper and largest olives to process for the table. They are fermented in a salt solution and then stored in a brine to which we add lemon and garlic. They are flavoursome, not overly salty, and have a good firm texture.
Packaged in a 285ml glass jar, 160g net weight olives.
Price: $7.00
Olive Paste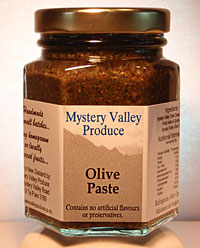 We blend our table olives with olive oil, homegrown garlic and fresh herbs to make a flavour filled paste. A tapenade without the anchovies and capers. Wonderful spread on bread, toast or biscuits and topped with tomato. A tasty addition to a pizza or pasta, and good served alongside simply cooked fish or chicken. Please note this product should be refrigerated.
Packaged in a 110ml glass jar. Net weight 95g.
Price: $10.00
Macadamia Dukkah
At last we have managed to beat our pigs to the macadamias! This is a traditional dukkah recipe - sesame, coriander, fennel, a little cumin, salt and pepper - great for a pre dinner dip with fresh bread and our olive oil. We have also been enjoying it as a light coating on tuna fillets before they are cooked. If you enjoy spicy flavours consider adding a few chilli flakes to the mix.
Packaged in screw topped clear 105ml glass jars - minimum net weight 50g.
Price $5.00