About us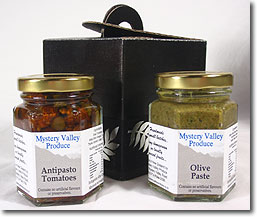 Mystery Valley Produce has its home in New Zealand's sunny Bay of Plenty.
David and Patsy bought their small property in 2006, hoping to make their dream life-style block, and live largely on what they could grow and make. It's a partly realised dream!
We have worked hard. The olive grove continues to be a work in progress. The 450 trees that we acquired with the property have flourished and borne fruit. They have also become somewhat unruly, and we are in the midst of a three year pruning programme, under guidance from Andrew Taylor from Olives NZ, with the aim of creating trees that are both more manageable and more productive. There is certainly plenty of flower developing this year. Our orchard and vegetable gardens also grow vigorously. We are eating well! And we have sufficient to share; hence Mystery Valley Produce.
We want to know that our food is simple and healthy. All our produce is grown with the application of natural home produced compost and the minimal application of sprays. Any sprays used are approved for use in registered organic enterprises. All our products are gluten free.
The fruits in our preserves are grown on our property, or when we do not have sufficient are sourced locally, often from neighbours. Fruit is used freshly picked, or frozen or dried immediately after picking for later production. The preserves are made in small batches and are genuinely "home style", with no addition of extenders or artificial colourings, flavourings or preservatives.
Mystery Valley Olive Press
In 2014 we took the plunge; significantly upgraded a shed to make it a fully compliant and registered food production facility, and bought an olive press, an Oliomatic 250.
It has been both exciting and fraught to press our own olives and to press for other people – quite a responsibility there! The first couple of years were not easy, and we owe much gratitude to Bert for his patient advice
Time moves on...we have now completed our fourth season of pressing. 2016 was by far the largest volume of olives we have pressed, 2017 was a low producing year in the Bay of Plenty, so David and the press had a quieter year!
A big thank you to all the growers who have entrusted their fruit to us. It gives us a real buzz to get to know you all, and to hear your olive stories.  We have learnt a lot.
We are able to offer contract pressing for small commercial producers and hobbyists. Please contact us for more information.